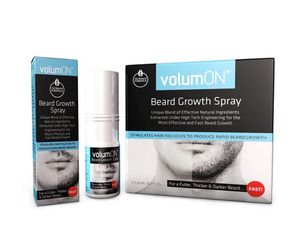 SUPER QUICK- For a Fuller, Thicker & Darker Beard...FAST! Stimulates Hair Follicles to Produce Rapid Hair Growth

100% NATURAL- Unique Blend of Effective Natural Ingredients Extracted Under High Tech Engineering for the Most Effective and Fast Beard Growth

BIG VALUE- 1 X 60ML Bottle Lasts Over One Month.

GET YOUR DOMINANCE BACK! Explanations for the existence of beards include signalling sexual maturity and signalling dominance by increasing perceived size of jaws, and clean-shaved faces are rated less dominant than bearded.

FINALLY A SOLUTION- For those of us out there longing for a solution to combat poor beard growth, need look no further. Volumon Beard Growth Spray is the most effective, revolutionary natural beard growth product to hit the market. With a small yet complex blend, of natural ingredients, the spray is able to give you a fuller, thicker and darker beard...FAST!