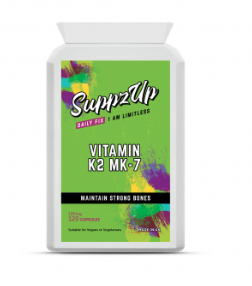 Vitamin K2 MK-7 Natural Natto provides a premium quality and easy to swallow daily vitamin K supplement Vitamin K is renowned for its role in the synthesis of a number of blood coagulation factors.
Key Benefits:
Highly biologically active form of vitamin K2 MK-7 derived from natural natto.
Helps you maintain and strong bones, support a healthy vascular system.
Supports healthy heart function & memory function
Provides calcium path "key" from your bloodstream into your bones.
Maintains blood and sugar levels already in the normal range.
Suitable for Vegans and Vegetarians