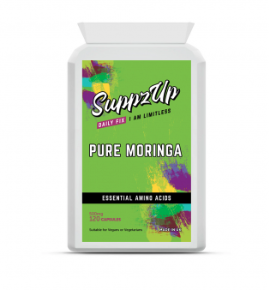 Moringa 500mg provides 500mg of 100% pure Moringa leaf per capsule with no mixers or fillers included. Pure Moringa is a nutritional powerhouse for people of all ages, providing a wide variety essential nutrients.
Key Benefits:
100% pure moringa - no filler no mixers.
Nutritional powerhouse containing mineral calcium, phosphorus, iron, potassium, magnesium, manganese & vitamins A, B complex C,D,E & K.
Complete plant protein source containing all essential amino acids.
Suitable for vegetarians and vegans