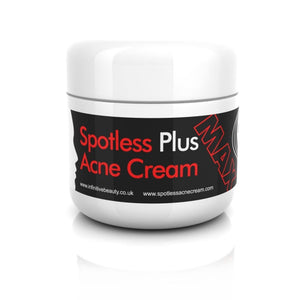 Spotless Plus MAX Spot & Acne Cream - The Strongest Extreme Version
Struggling with acne? Making you feel miserable?
Then Spotless Plus Max will bring the smile back to your face.
It's an improvement on the regular Spotless Plus version but Biosulphur and Salicyllic Acid are now in greater concentration.
What we have discovered is that we now have a very effective acne treatment on our hands but which you can use on your face or back and guess what? 99 out of 100 people found an incredible difference in their skin.
We want to bet that it will work for you.
If you are the 1% we are very sorry and will instantly offer you a total refund.
So what's to lose?
Spotless Plus Max will work and should it fail then your money is returned.
It's a win / win situation for cleaner, healthy vibrant looking skin.
If you're reading this you are probably worrying about your skin.
Stop, pimples, spots, acne with Ultra Clear Acne Cream Extreme and be part of a new revolution in acne care and prevention.
Our flagship product, Spotless Plus MAX Acne Cream has quickly risen to become one of the leading acne removal creams available online. With hundreds of positive customer testimonials, we boast a 99% success rate, with only an incredible 1% of our customers asking for a refund or claiming it didn't work for them.
Some will notice a visible improvement after just one application.
Your skin will look clearer, will make you feel better, will feel great and look healthy.
Spot, Acne, Blackhead and Blemish Treatment 99% Success Rate
Amazing Results- Made In The UK - The Spotless Plus Version With a Little More Oomph!
Best On The Market, Your Last Stop To Clearing Your Acne
Most Effective Spot Treatment Out There- Money Back Guarantee If Its Does Not Work For You
In case you've got a question I've listed the ones I get asked the most below:
Q: I have sensitive skin - will this product irritate it?
A: No. Spotless Plus MAX is formulated for sensitive skin and does not cause any irritation.
Q: Is it tested on animals?
A: No. Spotless Plus is 100% cruelty free. No animal testing.
Q: How do I use the cream?
A: You can apply the cream once, twice or three times per day. We would recommend twice a day to start with - first thing in the morning after washing and the same at night before bed. The cream acts as a moisturiser so it won't dry your skin out and is easily absorbed. Each 50g pot will last you 4-6 weeks depending on how regularly you use the cream.
Q: How long does the cream take to work?
A: This can vary from person to person. Some people notice an improvement after one or two days. Others take longer to notice the benefits. Everyone should notice the difference after 14 days
Q: Is it oily?
A: Some, but not all, find this. The theory behind using an oily cream is to trick the body into thinking it is producing far too much oil. The body then stops producing so much oil and therefore acne breakouts reduce. You will only know by trying after doing your own research but be sure before purchasing.