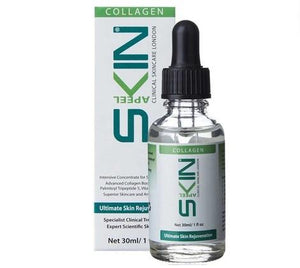 Skinapeel Collagen Serum 30ml - Clinical Skincare Specialists London
The Skinapeel Collagen Serum Is a Revolutionary Skin Rejuvenation and Anti-Aging Treatment, Which Combines the Most Effective, Advanced and Proven Ingredients Designed to Give You Younger, Firmer and Revived Looking Skin. The Highly Concentrated Dosage Can Provide Our Skin with Instant Life and Lift, Rolling Back the Years, Leaving the Skin Glowing and Refreshed. Collagen Particles in The Serum Are Treated with The New Atomising Technology Which Increases the Collagen Inflow by As Much As 1000-Fold.
The Detail:
Collagen Is a Protein Made Up of Amino Acids Glycine, Proline, Hydroxyproline and Arginine. It Provides the Building Blocks of Our Skin with Firmness and Elasticity. The Degradation of Collagen Causes Wrinkles and Other Skin Issues. The Enormously Intensive Boost of Collagen from The Skinapeel Collagen Serum Will Leave the Skin Rejuvenated, Revived and Reenergised.
Palmitoyl Tripeptide-5 - Made Up of Chains of Amino Acids and Can Penetrate the Epidermis and Enter Deep into The Dermis, Where It Stimulates Collagen Production and Healthy Tissue Growth.
Hydrolyzed Collagen Is a Form of Collagen. It Is Also Called Collagen Hydrolysate, Collagen Peptide, Gelatine, Gelatine Hydrolysate and Hydrolyzed Gelatine. Hydrolysed Collagen Is 100% Pure Protein in A Soluble Amino Acid Form, Which Allows Effective Utilisation by The Body. Hydrolyzed Collagen Contains 8 Out Of 9 Essential Amino Acids, Including Glycine and Arginine-Two Amino-Acid Precursors Necessary for The Biosynthesis of Creatine.
Retinyl Acetate (Vitamin A) - Popular as An Anti-Aging Chemical Because Vitamin A Is Easily Absorbed Through the Skin.
Tocopheryl Acetate (Vitamin E) - An Antioxidant That Protects Body Tissue from Damage Caused by Unstable Substances Called Free Radicals.
Allantoin - Proven Effective in Soothing Irritated Skin, Stimulates Cell Regeneration and Moisturises Dry Skin.
Directions: Simply Apply to Your Hand and Or Directly to The Skin and Gently Massage In. Great For Use with A Derma Roller.
Size: 30ml
PAO: 24m
Ingredients: Aqua, Hydrolyzed Collagen, Retinyl Acetate (Vitamin A), Tocopheryl Acetate (Vitamin E), Allantoin, Parfum, Palmitoyl Tripeptide 5, Methylchloroisothiazolinone, Methylisothiazolone.
Made In UK