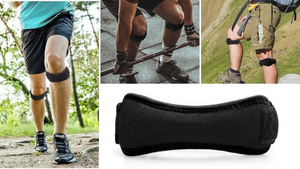 Do you suffer from nagging knee injuries, stiff or sore muscles, Tendonitis, cramps? Does your job require you to use your knee a lot? If yes you would love the Knee Protector Belt.
The strap reduces the pressure on the patella tendon and thus helps to alleviate the pain while running or exercising. Moreover, the strap can be adjusted to suit almost everyone.

They are extremely comfortable and can be worn every day to help you recover faster and reduce pain.