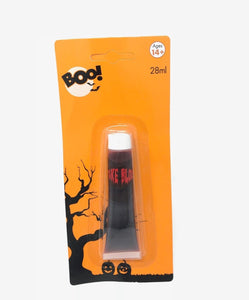 Squirt it, smear it, or perhaps even conjeal it - whichever your style, whoever your victim, Fake Blood is the original and the very best! 
Perfect for creating the ultimate ghoulish gore,  whether you'd like to create seeping Halloween wounds and bloody bites, or realistic stage and 
theatrical blood frights, Fake Blood will give you the ultimate fright night.
It's More Than Just Fake Blood, It's Fake Blood!
Fake blood is the ultimate Halloween makeup essential, but let's face it we've all seen it's ugly side, right? Oh yes those fuzzy memories of waking up to sticky red hair, bin worthy bed sheets and a highly impressive skin break out- sound familiar? However unlike traditional fake blood, you can forget those dodgy red stains and ruby red rashes, tested on skin.
Easy application & removal

100% cruelty free makeup
Dermatologically tested
Once your Halloween Party is over simply splash your face with a little and water and soap!