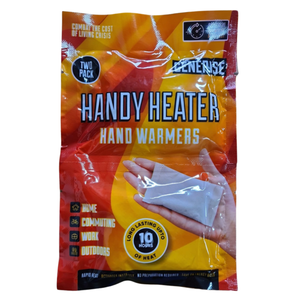 Generise 'Handy Heater' Hand Warmers - 2 Pack
Long lasting hand warmers 2 pack with up to 10 hours of heat making them ideal for home, commuting, work and general outdoor use. Conserve heat and energy.
Features:
2 Pack
Up to 10 hours of warmth.
Outdoor and indoor use.
No preparation needed.
Rapid warmth.
Single use.
Usage:
Simply remove a hand warmer from the orange packaging and it will begin to react with the air. Give it shake and a few minutes later, feel the warmth. If it starts to cool, simply shake the pack again.
Note:
These are hand warmers and not to be used for injuries.