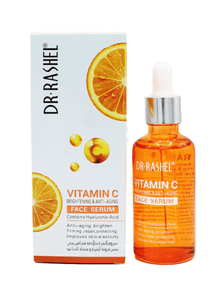 Dr Rashel Vitamin C Brightening & Anti Ageing Face Serum 50ml
Unlock the secret to radiant, youthful skin with Dr Rashel Vitamin C Face Serum – your daily dose of skin-transforming magic! Step into a world of beauty and rejuvenation as you experience the remarkable benefits of this powerhouse serum.
✨ Introducing Dr Rashel Vitamin C Face Serum ✨
🍊 Supercharged Radiance: Infused with pure Vitamin C, this serum is designed to revitalize and illuminate your complexion. Vitamin C is renowned for its ability to fade dark spots, diminish fine lines, and restore a youthful glow.
🌟 Age-Defying Formula: Dr Rashel's serum is packed with antioxidants that combat the damaging effects of free radicals, helping to reduce the signs of aging. Achieve a firmer, smoother, and more youthful appearance with every use.
🌿 Natural Nourishment: Our serum is formulated with natural and organic ingredients, free from harsh chemicals or additives. You can trust that you're giving your skin the care it deserves.
💧 Intense Hydration: Hyaluronic acid, a key ingredient in our serum, provides deep hydration, leaving your skin supple, plump, and refreshed. Say goodbye to dry, dull skin and hello to a radiant, dewy complexion.
🌞 Daily Defense: Dr Rashel Vitamin C Face Serum not only brightens your skin but also acts as a protective shield against environmental stressors. Enjoy the confidence of knowing your skin is shielded from the elements.
🌷 Suitable for All Skin Types: Whether you have dry, oily, or sensitive skin, our serum is designed to enhance your skin's natural beauty without causing irritation. It's a universal solution for skin that craves revitalization.
🎉 Instant Transformation: Experience the magic as our serum absorbs quickly, leaving no residue. It's the perfect addition to your morning and evening skincare routine, effortlessly revitalizing your skin.
🎁 The Perfect Gift: Give the gift of beautiful, radiant skin to yourself or a loved one. Dr Rashel Vitamin C Face Serum makes an ideal present for anyone who desires glowing, youthful skin.
Unlock the potential of your skin with Dr Rashel Vitamin C Face Serum and rediscover your natural radiance. Transform your daily skincare routine with the power of Vitamin C and embrace the beauty of rejuvenated, glowing skin. Don't wait; order your Dr Rashel Vitamin C Face Serum today and experience the magic for yourself!"
Directions
Apply evenly to face and neck in the morning or evening, after cleansing , Massage in circular motions for better absorption.
Ingredients:
Aqua, Glycerin, Propylene Glycol, Corn Gluten Amino Acids, Glycereth-26, Glyceryl Polymethacrylate, Pvm/Ma Copolymer, Butylene Glycol, Yeast Beta-Glucan, PEG-40 Hydrogenated Castor Oil, Carbomer, Triethanolamine, Hydrolyzed Sclerotium Gum, Phenoxyethanol, Glycosaminoglycans, Hydrolyzed Collagen, Chlorphenesin, Sodium Hyaluronate, 3-O-Ethyl Ascorbic Acid, Fragrance, Ci 16255, Ci 19140
Safety Warning:
For external use only.
Our serum can be used on all skin types, including sensitive, dry and mixed skin. However, discontinue use if redness or irritation occurs.
Avoid direct contact with eyes. If contact occurs, rinse thoroughly with water. Keep out of reach of children.
Directions: PATCH TEST RECOMMENDATION - It is RECOMMENDED that you perform a patch-test of the product 24 hours before regular application to ensure the product is a good fit for your skin. If the formula is compatible with your skin, apply few drops once daily followed by a good moisturiser.