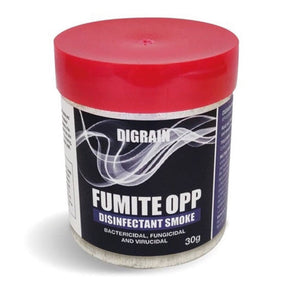 The product has proven 99.9% control of E. coli, Staphylococcus Aureus, Avian Influenza, Norovirus and Salmonella. It offers a quick and easy bacterial, fungicidal and virucidal disinfectant as a smoke bomb. It helps control the risk of cross contamination of surfaces and equipment with minimal chemical use and optimal results. With proven efficacy against major pathogens, lower quantities of biocide is required than if using a spray in the same area. The smoke also reaches inaccessible areas that are hard to get to with a spray treatment. 
• Effective treatment against bacteria, moulds and viruses in any enclosed area 
• Low residue level 
• Quick, easy to use application 
• Dry disinfectant - no corrosion risk 
• Pre-dosed tins with uniform dispersion 
• Fast, reliable and safe disinfection 
• Safe to use in and around the home 
Contains 9g of OrthoPhenylPhenol Coverage 30 - 60 m3 
Use All year round. For use in Food prep areas, domestic kitchens, feed bins, trailers and trucks including those carrying animals / poultry, farm buildings, kennels, etc ….
Shipping Size
UK: Over 2.5cm - Parcel
Outside UK/ ROW: Over 2.0cm - Parcel